Water leaks can cause a great deal of problems if ignored.
Water leaks can come from any number of sources and if neglected can lead to mold conditions, rotten wood or even an emergency call.
The source of water leak has to be discovered and then stopped and this usually involves some demolition to explore and expose.
Moister can attract insects and rodents as well as damage structure and cause much more damage. Problems can be cosmetic or structural.
Once the source is taken care of, things usually have to dry and then be restored.
Here is a running photo library of the water damage calls that we have encountered recently:
Discovered how water was getting behind brick then fixed both problems.
Take a look at the result of more water damaging senarios that we fixed:
Rotten trim around this 3rd elevation window was allowing water in making it necessary to do both interior and exterior repairs.
A running toilet destroyed this vacant LL apartment for an insurance claim.
Flooding basement was traced to this crack behind the wall, then fixed.
Water and ice has deteriorated the mortar at this brick threshold entrance.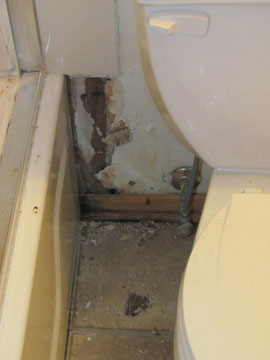 The extent of this damage was completely avoidable and the insurance company found a way not to pay for the additional ceiling and structural damage downstairs.  Some tenants say nothing and you have to find out when once they move out.  Both bathrooms needed work, more should have been done but landlord was left holding the bag. Not the ideal situation but at least the tenant promised to paint both bathrooms after our repairs were completed.