Take a moment to view this slideshow and see how this waiting room was converted into a reception area.
Below is same project from the another angle.
Remodeled the vestibule by removing closet door and window system.
We relocated this furnace room door position from
around the corner to improve upon the overall floor plan.     .
Another project for you to see progression.
We created a private office by filling in some windows and adding a door.
We converted this 900 s.f. dedicated office space into a fitness facility.
Downsizing tenant will be renting out Suite A after closing up these two walls.
This low paneled ceiling vestibule was much improved as you can see.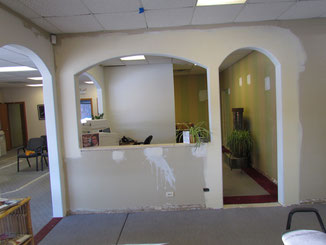 We cut these doors and windows into blank walls of a neighboring suite and expanded into that vacant space.